Wooden Spear

Common Attributes:

Is Stackable?
No
Is Flammable?
No
Density
Durability
21

Weapon Powers:

Melee Power
3
Melee Hit Ratio
80%
Projectile Power
3

Tool Strengths:

Tool Level
2



A spear is a versatile weapon that can both be thrown and used for melee attacks. When used, it will eventually lose its sharpness and fail. Spears made from better materials will last longer and cause more damage. Thrown spears will stick in soft materials. It may be hard to remove a spear that embedded itself too hard.
Crafting
Requires 3 planks and 2 sticks. You get one spear.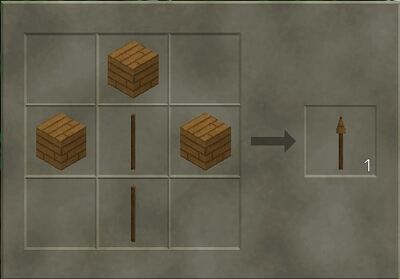 Notes
This spear cannot kill a bird in one hit.
Spears have a max range of 21 blocks.
This spear, even being weak, can damage you if it bounces back.
The spear was the first weapon added to the game.
This spear is the most simple weapon in the game.
Throwing a spear can trigger targets.
Related Pages
Ad blocker interference detected!
Wikia is a free-to-use site that makes money from advertising. We have a modified experience for viewers using ad blockers

Wikia is not accessible if you've made further modifications. Remove the custom ad blocker rule(s) and the page will load as expected.