Wooden Leggings

General Attributes

Clothing/Armour Type
Wood
Can be Dyed?
No
Stackable?
No
Flammable?
Yes

Other Attributes

Protection
100%
Durability
10
Insulation
0.0
Weight
Light
Movement Speed
100%
Makeshift armor made of wooden sticks and string. Some protection. No insulation.
Crafting
Craft wooden leggings from 4 Sticks and 2 Strings.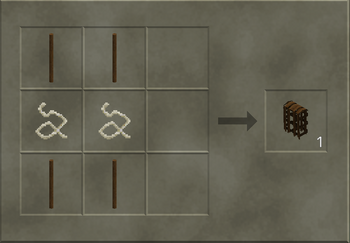 Notes
Wooden Leggings, along with the Wooden Chest Plate are good pieces of armor to craft at the beginning of the game.
Be careful that an orca can destroy the wooden leggings in one hit.
Wooden Leggings are not durable enough to protect you from musket balls.
History
1.27- Added Wooden Leggings
Ad blocker interference detected!
Wikia is a free-to-use site that makes money from advertising. We have a modified experience for viewers using ad blockers

Wikia is not accessible if you've made further modifications. Remove the custom ad blocker rule(s) and the page will load as expected.