Wooden Ladder

General Attributes:

Is Stackable
Yes (40)
Is Flammable
Yes
Fuel Value
5
Sleep Suitability
0

Physics:

Explosion Resilience
2
Is Fluid Blocker
No

Tool-related Attributes:

Digging Method
Digging Resilience
4
Ladders are made from sticks or rods. They make it easy to climb and descend walls safely. It is safest to climb both up and down facing the wall. That means you have to approach the ladder backwards when entering the ladder from the top.
Crafting
Requires 7 sticks. You get 2 ladder pieces.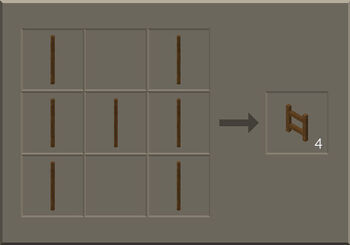 Notes
Ladders can ONLY be placed on vertical surfaces. 
You can dismount a ladder by facing away from the ladder and jumping. 
They may be used as decorative elements. 
Placing them behind ivy will significantly hide them. 
Ad blocker interference detected!
Wikia is a free-to-use site that makes money from advertising. We have a modified experience for viewers using ad blockers

Wikia is not accessible if you've made further modifications. Remove the custom ad blocker rule(s) and the page will load as expected.