Wicker Lamp
ID
17

General Attributes:

Is Stackable
Yes (40)
Is Flammable
Yes
Fuel Value
5
Is Edible
No
Emitted Light Amount
15
Sleep Suitability
0
Fire Duration
12

Physics:

Explosion Resilience
2
Projectile Resilience
0.75
Is Fluid Blocker
No

Tool-related Attributes:

Digging Method
Digging Resilience
4
Wicker lamp is a torch placed inside a wooden and wicker shade. It gives off slightly more light than the pure torch and is a nice, decorative item.
Crafting
Use one torch, two sticks and two planks to craft wicker lamp. You get one lamp.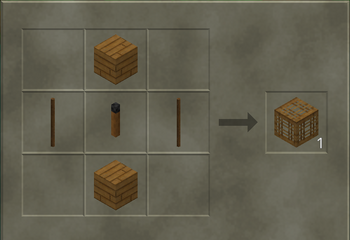 Notes
When placed in the crafting table, you will acquire one wooden plank.
The bottom of wicker lamps are opaque, but translucent when seen from the top or sides, creating a sort of one way glass affect.
Wicker lamps can be used in walls or floors as a way of space-saving lighting.
It may get destroyed when hit by a projectile, such as spears.
Much like torches, they can be used to make Furnitures that emits light. See Advanced Furniture for more details.
Related Pages