White Flower (Plant)
ID
25

General Attributes:

Is Stackable
Yes (40)
Is Flammable
Yes
Fuel Value
0.5
Is Edible
no
Fire Duration
6

Physics:

Light Attenuation
1
Explosion Resilience
2
Density
0.5
Is Fluid Blocker
yes

Tool-related Attributes:

Digging Method
Digging Resilience
0
Impact on Average Tool Longevity
-1
White flowers randomly grow on well lit and humid grass blocks. Can be used as a decorative plant. 
Uses
Can be used as a decorative plant.
When placed into the crafting table, you will acquire 5 white flower seeds, which can be planted and used to grow more white flowers.
They can also be used in making paint.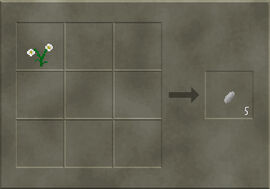 Food
The following animals use flowers as a food source: Horse, Camel, Donkey, Black Cow, Black Bull, Brown Cow, Brown Bull, White Bull, Gnu, Rhino, Zebra, and Bison. 
Notes
It gives the most seeds of any flower.
Related Pages