Torch
ID
31

General Attributes:

Is Stackable
Yes (40)
Emitted Light Amount
14

Physics:

Density
0.5
Is Fluid Blocker
No

Tool-related Attributes:

Digging Method
Digging Resilience
1
Description   (From Recipaedia)
Torch is a piece of flammable coal affixed to a wooden stick. When attached to a wall or placed on the floor, it emits light. It is the easiest and cheapest way to light interiors of buildings or underground corridors.
Crafting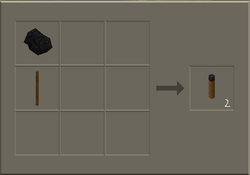 Requires 1
coal chunk
and 1
stick
. This will yield 2 torches.
Uses
The torch's main use it to emit light in dark areas or caves.
They are used in crafting the Wicker Lamp to get slightly more light.
They can also be helpful as waypoint markers when exploring outside.
Torches are needed to make Jack O' Lantern.
They can be used to make Furnitures that emits light. See Advanced Furniture for more details.
Ad blocker interference detected!
Wikia is a free-to-use site that makes money from advertising. We have a modified experience for viewers using ad blockers

Wikia is not accessible if you've made further modifications. Remove the custom ad blocker rule(s) and the page will load as expected.