Switch
ID
141

General Attributes:

Is Stackable
Yes (40)
Is Flammable
No

Physics:

Is Fluid Blocker
No

Tool-related Attributes:

Digging Method
Digging Resilience
1
An electric switch. It is used to set the state of an electric circuit to 1 (lever up) or 0 (lever down). The voltage remains in the selected state until the lever is moved again. A switch has outputs on all sides for easy connection, and can be placed on any horizontal or vertical surface.
Crafting
Crafting requires one
stick
and 3
copper ingots
. You get 4 switches.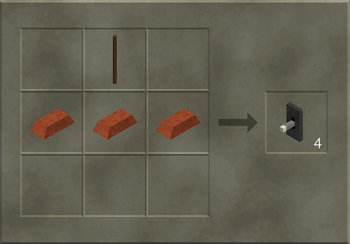 Hooking it Up
Simply connect any of its four sides or a WTB to an electric wire. The output is either a constant digital 0 or 1 depending on the position of the switch.
Wheeen the switch is placed vertically, the ON position is always UP. When placed on a horizontal surface, ON is either North or West, depending on the orientation. You cannot force it to be ON for the other directions. 
Uses
The basic use is to let the character energize an electric circuit. Of course this includes such things as turning lights on and off.
It is NOT recommended for operating doors.
It is a convenient way to produce a constant '1' signal for digital circuits, in lieu of using a battery.
They can be used to make furniture switches, craft them with two different furnitures to make your custom switches.