Marble Stairs

General Attributes:

Is Stackable
Yes (40)
Is Flammable
No
Sleep Suitability
0

Physics:

Explosion Resilience
5
Is Fluid Blocker
No

Tool-related Attributes:

Digging Method
Digging Resilience
6
Stairs make it easy to climb slopes. You no longer need to constantly jump and climb vertical faces, instead you move faster, saving time and energy. Stairs can be crafted from various materials. Stairs can also be placed upside-down on the ceilings.
Crafting
It takes 6 marble to craft 6 marble stairs. You get 6 stairs.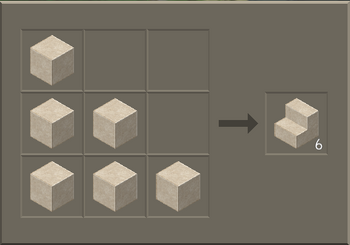 Notes
Stairs will automatically form outside corners where appropriate, but not inside corners. To make an inside corner, one stair has to be in place. Turn to face the side of it and tap the side of that stair.
To place them upside-down you must have a block above it and tap that block.
They are useful in a variety of decoration or design feaures.
Remember stairs are NOT fluid blockers and will pop if water or magma touches them.
It may become destroyed when hit by a projectile.
Related Pages
Ad blocker interference detected!
Wikia is a free-to-use site that makes money from advertising. We have a modified experience for viewers using ad blockers

Wikia is not accessible if you've made further modifications. Remove the custom ad blocker rule(s) and the page will load as expected.