Logic XOR Gate (electricity)
ID
156

General Attributes:

Is Stackable
Yes (40)
Is Flammable
No

Physics:

Is Fluid Blocker
No

Tool-related Attributes:

Digging Method
Digging Resilience
1
Logic XOR gate. Has two inputs on the sides and one output. The output is 1 when exactly one of the inputs is 1, otherwise it is 0. Can be placed on any surface and rotated to desired orientation.
Crafting
Crafting requires 2 copper ingots and 5 germanium crystals. You get 4 gates.
Hooking It Up
Connections
The output is at the side with the 'pointy' end of the synbol. The inputs are the two sides next to that one. The opposite side has no connection.
Graphical Symbol
Logic XOR gate has 2 inputs [ Labeled in red as A and B ] and 1 output [ A >< B ]
The XOR Gate generates electric current by its output only if ONE of it's inputs are 1.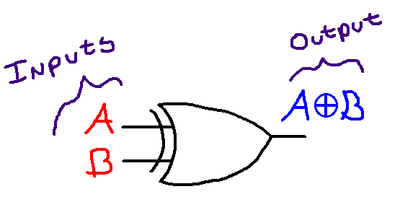 Truth Table
Truth Table shows all input combinations and output to each.
Inputs
Output
A                B
Y 
0
0
0
0
1
1
1
0
1
1
1
0
To demonstrate this, I'm going to use blue to represent 0 and red to represent 1.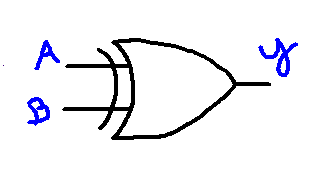 No electric current is generated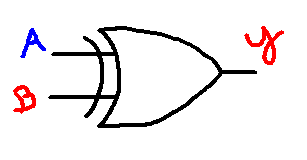 Electric current is generated
Electric current is generated
No electric current is generated
Notes
When the output is 0 [Blue] no electric signal is generated.
When the output is 1 [Red] electric current is generated.
Ad blocker interference detected!
Wikia is a free-to-use site that makes money from advertising. We have a modified experience for viewers using ad blockers

Wikia is not accessible if you've made further modifications. Remove the custom ad blocker rule(s) and the page will load as expected.