Jack O'lantern

General Attributes:

Is Stackable
Yes (40)
Is Flammable
Yes
Fuel Value
0
Is Edible
No
Sleep Suitability
0

Physics:

Explosion Resilience
2
Is Fluid Blocker
No

Tool-related Attributes:

Digging Method
Digging Resilience
1.5
Jack O'lanterns are usually carved from ripe pumpkins during Halloween. They emit weak light.
Uses
Jack O'lanterns can be used as decorations, or as a light source, although a Torch or a Wicker Lamp will emit more light. They can be placed on any horizontal surface.
Crafting
Requires 1 pumpkin and 1 torch . This will give you one jack O'lantern.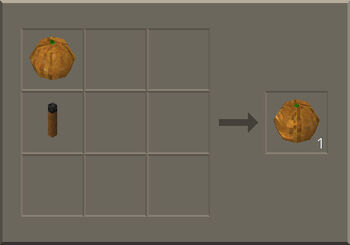 Related Pages
Ad blocker interference detected!
Wikia is a free-to-use site that makes money from advertising. We have a modified experience for viewers using ad blockers

Wikia is not accessible if you've made further modifications. Remove the custom ad blocker rule(s) and the page will load as expected.