Iron Ingot

General Attributes:

Is Stackable
Yes (40)
Is Flammable
No

Physics:

Tool-related Attributes:
Description   (From Recipaedia)
An ingot of pure iron. Can be crafted into very durable and strong iron tools. Only diamond edged tools can best them. Combine multiple ingots to form an iron block.
Crafting
Iron ingot is made by smelting Iron Ore Chunk in a furnace. You can also reclaim them by dismantling solid iron blocks. You can also obtain them by dismantling solid iron blocks.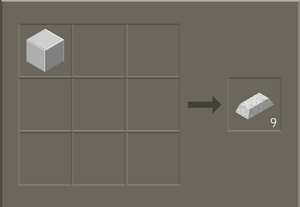 Uses
Notes
It is more efficient to carry 40 ingots in your inventory as opposed to 4 solid blocks. Each block requires 9 ingots. 9(4)=36, so you are able to carry 4 less ingots by carrying blocks.