This article showcases some ideas for building houses. These ideas may be fanciful such as the pumpkin house or more technical. If you add one, please add the date and your name. You may include the world download link or just add pictures.
---
Make a pumpkin house!
Find a grassy area and put pumpkins down as big as you want your house. Put a layer of grass block and then more pumpkins. Repeat. Sleep in the middle so you have a shelter.
Modernist House
Based on a house I saw in the forums but heavily modified and customized. I'm pretty sure this is where I first got the design. It's Modern House by generator011. The dropbox link is giving me trouble now, so I'm not positive that's the right one.
I used the CARTOON texture found in Community Content.
There's plenty of nice features inside, too. Oh, and you gotta see what's on the roof...
You can download the world here. That world also has the Pancake House in it.
Bridge House
This house was built as a bridge over a river and hangs over a waterfall the river makes.
Pancake House
This house came from another idea. It was going to be a doughnut house but that was technically challenging so this was to be practice for making circles and ovals. Instead it grew into a project of its own. Each floor has a stairway to the next floor that's supposed to be hidden from the outside view. It still needs some work. Each floor has a view of the sky.
You can download the world here. It also has the Modernist House in it.
Space Station House
This was originally made as part of a sky-block type of world and was meant to be a housing unit as part of a big space station. Once it was built I realised that it could be used as a stand-alone house or apartment complex. The pictures may not show the true scale of it but there is no world file for it yet. Once I figure out how to cut this section from the sky-block world and paste it into it's own world, I'll upload it and post the link. Until then, these pictures will have to do.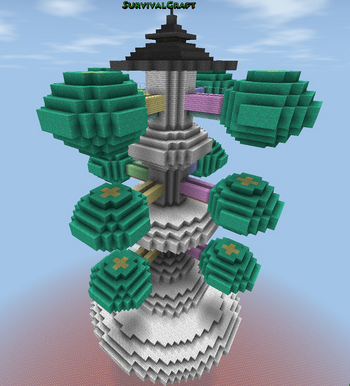 Each pod at the end of the arms is a circular room big enough to use as an apartment. The bigger, community rooms at the axle could be meeting rooms or common rooms if you want to use this as a community building. The biggest central room at the bottom has an inner diameter about 40 blocks and could be separated into many smaller rooms or used to house a community pool, a laundry, etc.
Open-Modern House
Here is another modern type house with an open design. This was first inspired by a building in an animated show. It still needs a lot of work, especially inside. 
When I have more done, I could add a link to an upload. 
Stanimus 2015Sep v1.27
Chalet Style Lodge
This lodge has an open plan on the two main floors. There's two suites of rooms on the 1st floor, each with a bedroom and a utility (crafting) room. It also has a kitchen and an open central area with a large fireplace as the central focus. The second floor has two large bedrooms and a wrap-around balcony over the center of the ground floor. A third large room may be used as a trophy room. The third level is a large library. The fourth and fifth floor comprise the master suite. A full, large basement is also included.
This design is actually a copy of the largest house that spawns in Block Story, with some modifications. It uses the 'Cartoon' texture.
And a shot of the main floor open area.
Stanimus dec2016
Notes
Most block building games are similar enough to import ideas from other ones. There's many web pages that will help you with building or design ideas.
The game Block Story has a great variety of generated structures. This page is a showcase of these structures and may give you some great ideas.