Description
Here you can vote for your favourite snow biome animals! (Including rare ones) To vote just tap the button next to the name of your favoured animal and press 'vote!' Only vote once!
Voting
Pick your favourite snow biome animal! Thank you for your vote!
Links To Every Page
Animals
Here's a brief description of some animals.
White tiger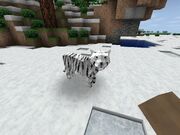 The White tiger is the rarest of all the animals. It is the same as a normal tiger but white, has less health, and lives in snow biomes. They are solitary and usually found alone, or with normal tigers.
White bull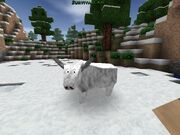 The albino looks like any other bull, but it's white of course. Albino Bulls don't live in herds and won't protect other cows. It will only attack if you provoke it, unlike normal bulls, which will attack if you provoke them or their cows.
Polar bear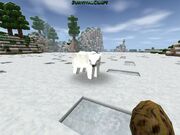 The polar bear isn't rare, but it is the most dangerous and versitile of the three types of bear. (Black bear, Brown bear and Polar bear) They are a creamy white colour and tend to spawn near the coast, in snowy areas.
Reindeer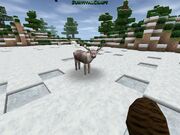 The reindeer is common, and unfortunatly not rideable. They look a little like horses with antlers. They were released in the Christmas update. Hopefully in later updates they will be rideable, or somthing like a sleigh will be added.
Gray wolf
Your probably thinking; 'What? wolves aren't snow biome animals!' Well actually, they live in a lot of biomes, including snow! They also turn into werewolves on full and new moon. Werewolves are much more dangerous then wolves and can jump up to three blocks high.