Crafting Table (Block)
ID
27

General Attributes:

Is Flammable
Yes
Sleep Suitability
0.5

Physics:

Explosion Resilience
5
Is Fluid Blocker
No

Tool-related Attributes:

Digging Method
Digging Resilience
5
Description
Crafting table is a piece of workshop furniture made of wood. It is a very important item, because it allows you to craft items that require more than 2x2 crafting slots. All craftable items can be made on it, provided that you have the required materials.
Crafting
It is crafted with 4 Planks and can be made in the personal crafting platform. You get one table.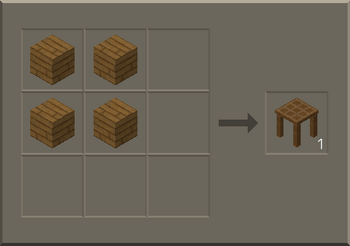 Notes
Since the 1.26 update, the crafting table now looks like a real table.
Before 2.0, crafting table was fluid blocker.
Crafting tables, chests, furnaces and dispensers all drop what they contain when broken or burned.
Crafting tables are neccesary to make multi state furnitures with more than four states, check this page for more details.
Ad blocker interference detected!
Wikia is a free-to-use site that makes money from advertising. We have a modified experience for viewers using ad blockers

Wikia is not accessible if you've made further modifications. Remove the custom ad blocker rule(s) and the page will load as expected.