Copper Ingot

General Attributes:

Is Stackable
Yes (40)
Is Flammable
No

Physics:

Tool-related Attributes:
Description   (From Recipaedia )
An ingot of pure copper. Can be crafted into copper tools, such as buckets, wires, and other electric devices. Combine multiple ingots to form a copper block.
Crafting
Copper ingot is made by smelting malachite chunks in a furnace.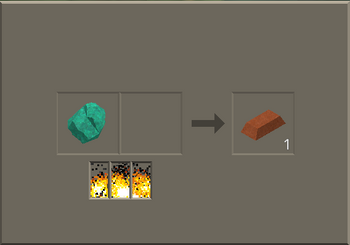 You can also obtain them by dismantling solid copper blocks.
Uses
Can be used to craft Electric Wire, Buckets, Solid Copper Blocks, Batteries, and other electrical items. As of 1.29 can be used to make amor, tools, and weapons.
Notes
Do not form them into blocks to hope to save storage space - the blocks only stack up to 4 blocks (36 ingots) whereas they can be stacked up to 40 in their original form
Related Pages
Ad blocker interference detected!
Wikia is a free-to-use site that makes money from advertising. We have a modified experience for viewers using ad blockers

Wikia is not accessible if you've made further modifications. Remove the custom ad blocker rule(s) and the page will load as expected.