This page is to recognize a contributor weekly who has edited and improved the Wiki. I thought this would be a great way to recognize those who have worked hard to improve our articles, information, etc. A thank you to all who edit!!
~ChartreuseNarwhal
2014 Winners
9/13: For an unbelieveable amount of edits and having the great idea for a Building Contest, this weeks [and first ever] winner is Plant Champion

9/20: This week, I thought it would be fun to let everyone vote for the contributor of the week. The vote was beetween Plant Champion and 108.17.83.163. Both have done a lot of editing, but this weeks winner [with 75% of votes] is Plant Champion!!

9/27: For adding the most pictures to articles this week, this weeks winner is Stanimus!

10/4: This weeks winner, for making 32 comments this week is Plant Champion!

10/11: This week, everyone edited quite a bit. But for adding the most pictures and fixing a substantial amount of unfinished pages, this weeks winner is Stanimus!

10/18: There are two winners this week. Since both Tech3267 and Germanium.power are the only ones who have entered the Building Contest, they are this weeks winners!!

10/25: For fixing many pages again, this weeks winner is Stanimus!!

11/1: We have a new user on our Wiki, and he has already been doing a lot of editing. So be sure to welcome this weeks winner, Samarnoldmn!!

11/8: For joining this Wiki and getting right to work fixing and creating pages, this weeks winner is Hazelbloom123!

11/15: This week, Hazelbloom123! has won again for adding so much information and so many pictures to articles. Be sure to congratulate her for another big win!!
Contributor of the Year 2014
OTHER AWARDS:
CONTRIBUTOR OF THE YEAR:
Hello all! It's time to reveal the Contributor of the Year 2014!
This is the hardest decision I have had to make all year, and I sure wish Stanimus was here to help decide.
I've been debating between Hazel and Plant Champ. Hazel has been a hard worker since the moment she joined this wiki. She has always helped in any way she can, especially with pictures and the clothing pages. Plant Champ makes everything fun. He has also created countless pages, helped defeat vandalism/spam, and kept us all up to date with his Upcoming Features page.
Both Hazel and Plant Champ are VERY important to our wiki. But I have to chose one to be the Contributor of the Year 2014..... And it's really close.....
And the Contributor of the Year 2014 is... PLANT CHAMPION!!
Congrats!!! And everyone have a GREAT New Year!!!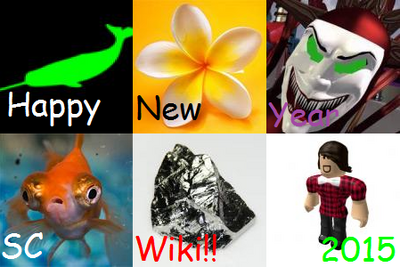 2015 Winners
8/15: This week, our winner is Aylinerik! Thanks for all of your help and suggesting we restart this page ;)
8/29: This week, our winner is Superguy20015! Thanks all of the tips and notes you have added to pages!!
2016 Pending
Edit away, and you may get first place! It starts back today, edit before the twenty fourth and whoever does the best quantity or quality of edits will win. Do not spam!
Ad blocker interference detected!
Wikia is a free-to-use site that makes money from advertising. We have a modified experience for viewers using ad blockers

Wikia is not accessible if you've made further modifications. Remove the custom ad blocker rule(s) and the page will load as expected.