Christmas Tree
File:Christmas Tree icon.png
ID
63

General Attributes:

Is Stackable
Yes (40)
Is Flammable
Yes
Fuel Value
5
Is Edible
No
Emitted Light Amount
12 (When Lit)

Physics:

Explosion Resilience
2
Is Fluid Blocker
No

Tool-related Attributes:

Digging Method
Digging Resilience
3
A must have for Christmas! A Christmas tree is made from spruce leaves.
Crafting
A Christmas tree is crafted with 6 spruce leaves, 2 sticks and 1 plank. You get one tree.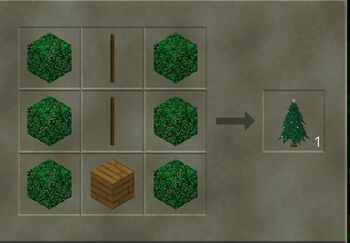 Notes
They can be used for decoration, or as fuel in a furnace. However, they provide little fuel.
They will emit light when electrified.
You must use spruce leaves to make a Christmas tree; oak, tall spruce or birch leaves will not work.
Only the bottom block is solid. When you stand on the tree, you are only one block high. 
Christmas Tree texture is a 3D model, so is not editable. 

However, the leaves can be edited by editing the Spruce Leaves while the star and the lights can be edited by editing the iron ingot/iron tools texture.  
Related Pages