Bow

Common Attributes:

Is Stackable?
No
Is Flammable?
No
Density
Durability
81

Weapon Powers:

Tool Strengths:



A bow can be used to fire various types of arrows.
Crafting
Requires 3 sticks and 3 strings. You get 1 bow.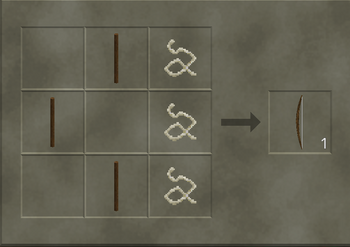 Uses
Bows are used for archery and long distance hunting.
To load an arrow in the bow, simply drag the arrow and drop it over the bow.  You can keep the arrows in the hotbar for faster loading. 
Bows can also activate targets. 
Can be used as a crafting ingredient to make Dispenser.
Bows have less accuracy than Crossbows.
Ammunition
Ad blocker interference detected!
Wikia is a free-to-use site that makes money from advertising. We have a modified experience for viewers using ad blockers

Wikia is not accessible if you've made further modifications. Remove the custom ad blocker rule(s) and the page will load as expected.