Description
This mineshaft was made by eredhelil.
This mineshaft (as you can guess from the word "advanced") is just for real miners/players, not for beginners. It also need lots of resources to have (mainly wood or granite). It is super useful when looking for minerals, cause with it you can easily find anything you want (because it allows you to go in whatever "floor" you want.
What do you need to build it?
Patience. This is not an easy task in the first place. You are making a mineshaft after all.
Even more patience.
Wood or another building material. Good is also use the granite you will get when making this mineshaft.
Chests placed every few levels. If you are a serious miner and player then no resource ever goes to waste. I put everything to use eventually and I'm assuming you want to build some massive structures later so chests are important. Stock up on the massive stone and whatnot.

You can download the world file with the mineshaft here.

If you have all the things listed above, you can begin with making this shaft. Here are some pics with details that can help you -

The main thing is a hole - it should be 5x5 blocks.
Can you see the stairs on the right side of the shaft? They are build in the hole (so with the stairs build, the hole is just 5x3 blocks).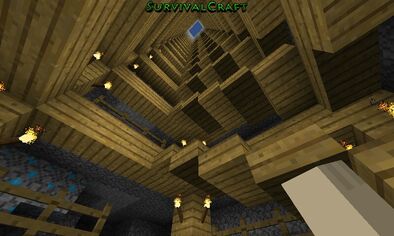 The stairs are 2blocks wide -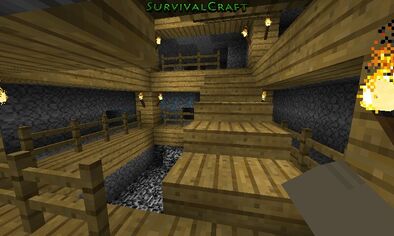 When finishing the stairs, you can almost see floors. Now dig a path that will connect the stairs (around the hole).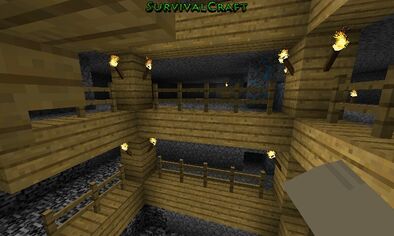 Ad blocker interference detected!
Wikia is a free-to-use site that makes money from advertising. We have a modified experience for viewers using ad blockers

Wikia is not accessible if you've made further modifications. Remove the custom ad blocker rule(s) and the page will load as expected.